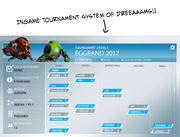 An esport is a form of competition that is facilitated by an electronic system. For the purpose of Diabotical , this specific system references to Video Games. Esports are organized multiplayer matches by professional players. These are generally players who put in the time and dedication to become the best in their chosen game. They are often on teams, but some games also allow for solo competition.
Diabotical was designed for esports by a team who understands esports well. Players will create teams or Clans and compete for Rank. Teams will be able to have sponsored skins and stickers for their bots. Go to Customization for more information on customizing the Eggbot .  
Ad blocker interference detected!
Wikia is a free-to-use site that makes money from advertising. We have a modified experience for viewers using ad blockers

Wikia is not accessible if you've made further modifications. Remove the custom ad blocker rule(s) and the page will load as expected.